LabVIEW Solutions Architect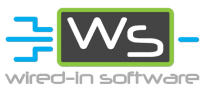 Wired-in Software delivers purpose-built automated test
equipment, data acquisition applications, and machine vision
systems to manufacturers, engineering service providers, and
universities.
Our systems are based on the NI LabVIEW platform, which is a
powerful graphical development environment for test and
measurement applications.
Wired-in Software are a National Instruments Alliance Partner,
and have achieved their highest certification with a Certified
LabVIEW Architect - one of only six in Australia.
Our systems provide a great user experience, are supported for
their full life, and are reliable.
We have strategic alliances with well established hardware
suppliers, and mechanical and electrical designers, to allow us
to deliver a complete turn-key solution.
Visit our website at http://wiredinsoftware.com.au
for more information, and to find out about our complete LabVIEW
services.