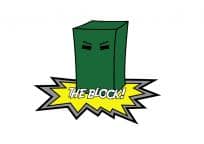 A simple solution to halve the cost of waste collection
The Block is a concrete block weighing 900kg that can be picked up by a forklift to compress rubbish on the ground or in a bin. Designed to crush industrial waste, it easily handles the most difficult items like cardboard cartons and drums, and even old forklift pallets. The position of the lifting holes has been engineered to prevent damage to the bin, yet facilitate easy and safe handling by forklift.    
The product is manufactured in steel moulds in Mona Vale, and users ranging from printers and packaging companies to manufactures are reporting that despite its apparent simplicity, the Block is doubling the efficiency of their waste compaction 'in the bin', with associated savings in pick-up costs. When it is not being used to compact rubbish, it has other uses like providing a stable base for advertising flags and signage, or even providing added security behind roller shutters and security doors.