Applied Training Solutions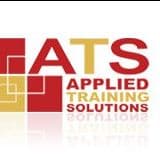 ATS offers the peace of mind that comes with a registered training organisation (RTO) with over 11 years' experience and more than 90 qualifications.
ATS Make Training Easy
ATS is an RTO about more than just bums on seats we are about results. Results for you, your team and/or your business. You too can benefit from our great record of customer satisfaction.
The range of qualifications offered by ATS covers all aspects of business from administration to warehousing. ATS offer training nationally. The ability to offer such comprehensive training nationally means ATS can be the one-stop training provider for most businesses.
ATS fits training programs to business needs rather than trying to make businesses fit qualifications. The delivery of workplace training offers flexibility to accommodate workplace training needs and requirements. ATS make it easy for business handling the entire process from the development of the program, through to the sign up, delivery and certification.
We haven't forgotten job seekers either having alliances with job seeker agencies that help to deliver the best employment opportunity and results for job seekers.
Applied Training Solutions has been offering training for over 11 years and was founded by John Zappia and Carlo Lauricella who are both still active in the business today. This continuous presence in the industry provides a training foundation you can count on.