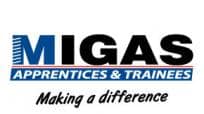 MIGAS recruits and employs apprentices and trainees, then places them with Participating Training Companies (Hosts) for their training period.
MIGAS adapts a training program to suit individual business needs.
MIGAS monitors the performance of each placement to ensure that safe, high quality training is received and high quality work is produced.
MIGAS organises apprentice and trainee formal theory training (e.g. TAFE), deals with all paperwork requirements, organises the payroll and Superannuation, takes care of Worker's Compensation, and provides on-going HR advice to both the Participating Training Company and the apprentice/trainee.
MIGAS rotates the apprentice or trainee into other Participating Training Companies if the current Participating Training Company doesn't have enough work for the placement, a large enough range of training areas, or if there are issues in the workplace.
The term 'Group Training' refers to an arrangement where apprentices and trainees are employed by an organisation that takes primary responsibility for their training and employment (MIGAS) but places them with other businesses called Participating Training Companies or Hosts.
Group Training is particularly useful for small businesses which:
Find it difficult to commit to employing an apprentice or trainee for the entire training period;
Have a narrow range of work, so cannot provide the range of experience required by the apprenticeship or traineeship; and
Prefer a Field Officer to manage their employment and training responsibilities, for example recruitment and payroll.