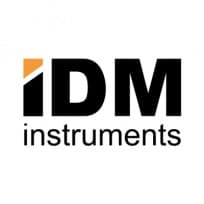 IDM Instruments Pty Ltd is Australia's award winning leading manufacturer and supplier of testing and measuring instruments, providing quality solutions to customers' manufacturing process and laboratory testing requirements.
We supply a vast range of testing equipment to multiple industries worldwide.
Our instruments can be used to test different aspects required for quality control and cost reduction of a final product, with reference to recognised standards.
As an award winning manufacturer, IDM proudly supply quality certified instruments & services to major global companies such as A.H. Beard, Amcor, Ansell, Australian Paper, BASF, Carter Holt Harvey, Dow, Dunlop Foams, Fenner Dunlop, Hoerbiger, Holden, Johnson Controls, Kimberley Clark, Kraft Foods, Multiflex, Original Mattress Co., RMIT, Shell, SITRA, Sleepy Head, Tempur, Toyota, Visy Industries & many others.
Our focus is to deliver what we promise to our customers, this is what they have come to expect.
This is achieved through the quality services we offer including design, manufacture, sales, maintenance and calibration across our entire range.
Not only do we provide quality instruments, but we also do in-house CNC machining and fabrication to suit any customer need.