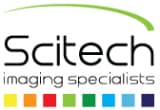 Scitech Pty Ltd
Scitech Pty Ltd
Test Measurement & Instrumentation
We offer a wide range of cameras, camera accessories and illumination systems; 
microscopy systems, microscope couplers and motorization accessories; 
imaging, visualization and analysis software including fully configured scientific 
PC workstations. Our systems can be adapted to existing microscopes and other equipment. 

SciTech also offers solutions for spectroscopy, nanotechnology and data acquisition.