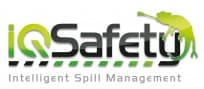 iQSafety (previously known as Matthews Safety Products), a division of Matthews Australasia, is the authorised Australian distributor of New Pig Safety Products, offering a huge variety of spill absorbent and spill containment products as well as safe storage solutions.
iQSafety's range of New Pig spill absorbent and containment solutions can help you prepare for any spill. New Pig's range of mats, booms, socks and pillows are available loose or in the form of spill kits.
We also carry a range of Justrite Safety Cabinets that meet all Australian standards. Available in almost any shape, size and type, JUSTRITE Dangerous Goods and Safety Storage Cabinets provide a safe, convenient and secure storage option for your dangerous goods.
iQSafety can help you address a range of safety issues you might have in your workplace.