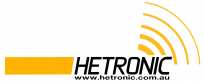 Hetronic Australia specialising in custom-built remote control systems and the team pride themselves on their ability to deliver swift and comprehensive service from initial concept design right through the product life.
Rather than taking things off the shelf, we build products to suit the situation and supply equipment that provides safety in the toughest industrialized environments.
Our strengths are in the custom design, manufacturing and support of radio remote control systems for use in mining, manufacturing, defense, rail, aerospace, transport, marine, agriculture, utilities, intrinsically safe applications.
For more information on industrial remote control systems, transmitters or any solution they might be able to offer, call +61 (0)2 4966 1281 or visit http://www.hetronic.com.au