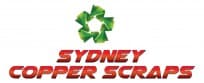 Feel free to enquire about scrap copper prices in Sydney from
Sydney Copper. We are one of the top scrap metal recyclers,
operating throughout NSW, Queensland and ACT. Our bulk buying
capacity and ready-to-go scrap pick-up service certainly help
sellers coming from commercial and industrial sector. The more
you deal with us, the better offers can you avail of. So, call us
now to arrange same-day scrap metal collection or you may
schedule it as and when required.