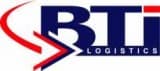 BTi Logistics
BTi Logistics is a fully integrated logistical service provider offering warehousing & distribution, pick & pack, bonded and general cargo storage solutions, freight forwarding and more.
BTi Logistics specialise in offering smarter logistics solutions to ensure that your company is one step ahead of the competition.
Our staff are committed to optimising tailored supply chain solutions and developing the right efficiencies within your company.
By simplifying processes, finding the right access to carriers and capacity, and improving your ability to monitor and track shipment activity, the BTi supply chain engineers create a transportation solution that is lean, efficient, and improves customer satisfaction, keeping your business running at peak performance.