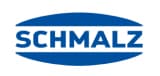 Schmalz Australia
Schmalz Australia
Pallets and Palletising Equipment, Cranes & Related Equipment, Drum Handling, Drum Lifter, Lifting Equipment, Lifting Equipment: Hoists, Materials Handling: General Equipment, Materials Handling Machinery & Equipment, Metalworking Machinery & Equipment, Vacuum Lifting Technology, Automation and Warehousing, Cranes & Lifting, Materials Handling Equipment
Schmalz Australia (formerly Milsom Hoists) is a leading supplier of cranes, hoists, vacuum lifting systems, vacuum components and materials handling solutions.
We have been providing solutions to all kinds of industry and manufacturers for over 38 years. With a range of over 50 products we can provide a solution to just about every area of manufacturing, logistics and manual materials handling.
We work with a number of innovative industry partners including SWF Krantechnik GmbH and Hitachi & Hoyer, just to name a few.
Schmalz is a Quality Assured company, and provides a full installation, maintenance and repair service to suit all your handling specifications and requirements.
No matter how big or small your operation is, we can work in partnership with your business to provide the best solution(s) possible.
Our continuous improvement philosophy ensures your business is provided with quality products, innovative solutions and guaranteed service, resulting in improved productivity, work safety and flexibility, for increased profitability.