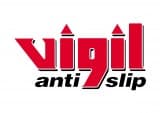 Vigil Antislip
Recognised worldwide as the highest quality pre-fabricated non-slip range of products available, Vigil Antislip was conceived, is manufactured and owned by Australians.
With a 25 year history, operations in Houston & Moscow and a distribution network covering over 70 countries, the company is also the most reliable supplier to all industries globally where there is the risk of slip related accidents.
All Class 1 Vigil Antislip products are provided with a 10 year full replacement warranty making this range of products the most cost effective on the market.
These products don't wear so they don't need to be replaced every few years and they will eliminate the possibility of slip related accidents for decades after being installed.
Don't be fooled by cheap imitations.
They will cost you more in the long run, perhaps a lot more!
Vigil Antislip – For All Walks Of Life.