Austart Migration Pty Ltd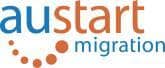 Austart Migration provides professional migration advice and services to companies and individuals. Jan Burke is principal consultant at Austart, based in Sydney's CBD; contact Jan on 02 9481 8803 for assistance with any migration matter.
Experienced with company sponsored migration and the general skilled migration schemes.
Austart offers an email enquiry service, fixed fees and friendly, confidential service. Get it right first time with Austart – you may only have one chance.