Maxworthy Fabrication QLD PTY LTD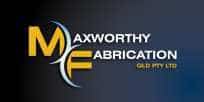 Steel fabrication and screw conveying equipment specialists in Brisbane.  
Providing Quality Steel fabrication and Manufacturing since 1978
Maxworthy Fabrication QLD is an independent privately owned Australian Steel Fabrication Company established in 1978, to provide quality Fabricated  Steel and Mechanical Equipment  to all industries including, General Industry, Bulk Material Handling, Mineral Processing , Mining and Construction.
OUR MISSION.
To ensure that all contracts are completed on time, within budget and to provide our customers with the best quality and service that we can possibly give without compromising safety. ISO 9001:2008 Registration AU1065
LOCATION.
Our office and Fabrication Workshop is located at 12 Oasis Crt Clontarf on the Northern Outskirts of Brisbane.  We are situated close to all amenities including the Brisbane Airport, Port of Brisbane and the National Highway.  We have successfully supplied quality steel fabricated products to many projects throughout Queensland, interstate and overseas.