Catten Industries Pty Ltd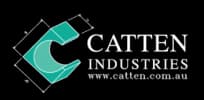 Catten Industries Pty Ltd of Bayswater, Victoria, is a wholly owned Australian company, specialising in the field of precision sheet metal fabrication.
Our modern facility incorporates our design and development division, which can manage your project from concept to completion. Our factory has the right machinery, operated by highly skilled staff, making sure that whatever the product, it is made to the highest standards for our many valuable customers.
Catten was established in 1994 to provide a quality sheet metal fabrication service to industry. The company operates in Bayswater, Victoria, Australia from a modern factory of 2,564 square metres (27.598 square feet) and is advantageously located in the East of Melbourne's industrial heartland.
Catten Industries have invested in industry leading equipment, which has resulted in increased capabilities, productivity and quality, enabling us to reduce lead-times and exceed customer expectations. Customer focus is our main aim, resulting in Catten Industries aiming for the highest Standards of workmanship.
Catten Industries utilises M1 software, which is a fully integrated (MRP/ERP) software solution to manage our business. M1 provides Catten with the ability to create & track part numbers on our system and link them to Quotes, to enter Orders, schedule and monitor customer Jobs, deliver to our customer Just-in-Time (JIT), Full Job analysis and complete accounting capability. Catten Industries uses Touch screen & Barcode technology to clock on and off processes and to monitor job operations, rework and scrap, ensuring customer orders move through the workshop in a timely fashion.