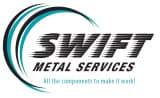 Swift Metal Services
Swift Metal Services
Metalworking & Metal Machining
Swift Metal Services attention to detail and the ability to produce metal parts & Stamp components tailored to suit any task or application, has resulted in a rapid expansion over past 18 years. The success in our metal stamping, pressing and forming division has been mirrored in the growth of the repetition fabrication and custom manufacturing sections.
A WEALTH OF EXPERIENCE
Extensive experience combined with a large fully-equipped factory allows us to preduce world-class metal components and repetition fabrications.
Swift Metal Services provide all forms of welding, laser cutting, rolling, CNC punching and perforating, bending, pressing, stamping, hot forming, CNC machining and profiling.
We design, build and maintain all our tooling, in our own Press Toolroom, which ensures our products are time and cost effective.Additionally, we have maintenance facillities for all clients press tools.
PREFAB PARTS FOR INDUSTRY
Swift Metal Services produce an extensive range of prefabricated parts for industry including: transport, body building and rail components; pipe supports; mining spares and pupm manufacturers.
REPETITION MANUFACTURING - METAL PRESSING & STAMPING
We will manufacture any metal components small or large, from base plates, structural steel parts, balustrade & hand rails parts, lintels, column stirrups, cleats, splice plates, angle brackets, tunnel brackets, roller door brackets, pipe clamps, pipe clips, and perforated mesh to sheet metal, painting trestles, reinforcement bars, fire extinguisher brackets and sunshade supports.
A FAST OBLIGATION FREE QUOTE
Send us your drawings by email to sales@swiftmetal.com.au and we will quote to manufacture.
FREE DELIVERY AUSTRALIA-WIDE