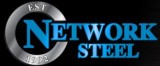 Network Steel
Network steel are a specialist structural steel company that
specialises in steel fabrication. We have been operating in
Brisbane for over 20 years, in that time working on a wide
variety of projects across multiple industries. From residential
projects to commercial projects, we have vast experience working
on both, giving you the confidence and assurance that we will get
the job done right.

Over the past decade we have seen a significant increase in our
services around Brisbane, as our popularity has continued to grow
for residential and commercial projects. We put this down to the
level of service and consistency we offer, each and every project
taken on is managed in a professional manner, ensuring we deliver
the project on time and on budget.

We have an experienced team consisting of over 60 tradespeople,
all of which have the skills and expertise to help drive your
project. They have extensive knowledge of the industry and are
well equipped to work across a wide range of different
industries. Overall our level of experience and expertise
combined with our commitment to excellent customer service makes
our service unparalleled in the industry.

We have worked on many projects throughout the past 20 years, and
are happy to work on jobs of all budget sizes. Whether you have
$100 to spend or millions, we have the resources and dedication
to get the job done.