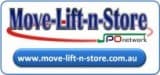 Move-Lift-N-Store
Move-Lift-N-Store
Materials Handling & Storage
Our management established our initial Company Spacepac Industries P/l in 1982,
SPO Pty Ltd ..trading as "Move-Lift-N-Store", is a new company formed to expedite Ecommerce sales on the Web for both new clients as well as account customers
We have a virtual showroom and do not have facilities for direct customer pickup from our warehouses.
As customer demand increases, we provide new and improved products.. most of which are manufactured in Australia thus increasing employment and savings for our clients.
We provide products with more than one application - products suitable for widely different uses in both the Commercial & Industrial fields.
Buy online Spacecase Storage Boxes for storage purpose. Clax folding trolleys. HPRC and Pelican Protective hard Cases. Pelican Flashlights. Laptop Platform Trolleys and shopping carts. Wheelie Bins and plastic containers for Australian homes.