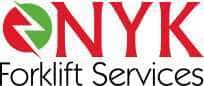 NYK Forklifts is Queensland owned and operated. Our technical staff have over 95 years combined experience in the industry servicing Nichiyu forklifts.
Our success has been built on a fierce desire to provide the highest possible level of service to our clients. This has been achieved through training and the dedication and professionalism of our staff.
NYK's strength lies in our ability to manage all facets of a material handling operation.
We do not merely provide the equipment; we provide a committed and consistent total customer service to ensure the equipment provides maximum productivity.
Our Queensland head office is located at Acacia Ridge in Brisbane situated in the south east and is very central to all industrial locations in the region.
NYK Forklifts is part of Nichiyu Global Corporation and has supporting branches in all states.
In addition we provide Industrial cleaning equipment from Fim ap Ride On Scrubbers & Sweepers.
The company (NYK) was first established in Australia in 1923 named QBM and NYK since 1992.
Nichiyu is the oldest manufacturer of Battery Electric lift trucks in Japan and currently the largest.
In addition to the Nichiyu Product , NYK Forklifts Offer a full Product Range, Service & Parts for the following World Renowned Quality Brands: *Toyota, *TCM, *Crown, *Yale, *Clark, *Fimap Industrial Cleaning Equipment
Superior Service
Our Brisbane operation offers an average 2 Hour service response time (less in most cases)
Monday to Friday 7:00 am - 4:00 pm.
An internal Field Service Controller and an "on the road" supervisor ensure both customer and Field Service Technicians receive full support and full service .
Our Brisbane workshop is modern and well equipped, offering complete major overhauls, rebuild services incorporating our fully equipped paint shop.
Our New Satellite Controlled Field Service vans are Equipped with latest Tools, Parts & diagnostic Equipment NYK carry a comprehensive stock of spare parts for ALL our brands ensuring prompt and efficient service, consistent parts availability to customers and our Service Technicians.