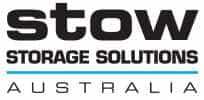 Stow Australia is one of Australia's leading storage solutions and pallet racking manufactures.
We design and install cost effective and innovative storage solutions Australia wide.
Our dedicated team includes designers, project managers and installers.
Our team has worked on Australia's largest storage solution projects and bring experience, knowledge and comfort to our clients.
Stow Australia is a member of the Stow Group.
Stow Group has 3 offices and production plants globally.
All Stow Australia's products are designed and tested our International Headquarters in Europe.
Our products are manufactured to the highest safety and product standards.
Every installation is designed to the current Australian Standards by using our state of the art certified engineering software.
Stow Australia prides ourselves on personal service and delivering on our promises.
Stow Australia provides personal and prompt service from your consultation though to installation and maintenance.