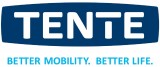 Tente Castors & Wheels
Tente Castors & Wheels
Materials Handling & Storage
Tente Castors & Wheels Pty Ltd (formely known as Moore Equipment at Marrickville).  As of 1 August 2012, Moore Equipment became Tente Castors & Wheels Pty Ltd.
Tente Castors is now located at Lidcombe headed by Grant Smith (Managing Director).  Tente still supply quality wheels/castors and materials handling equipment. 
Tente Castors have a comprehensive range of castors, wheels trolleys, plastic bins, pallet trucks, order pickers, scissor lift tables and many, many other storage moving solutions.
We are proud to be associated with many brands such as Nally, Hills, Safetech, Warequip, Ruxxac, Magliner, Rubbermaid, Stockmaster and Prestar.
Tente has an huge range of castors includng industrial, medical, hospital bed, institutional, design, chair, heat resistant, pneumatic and stainless steel.