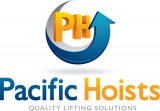 PACIFIC HOISTS PTY LTD
Pacific Hoists P/L is a privately owned Australian family business which was founded in 1976 to market the Hitachi range of electric hoists in Australia. Today, the company enjoys an enviable market leading position in the Australian and New Zealand lifting, materials handling and hydraulics industry.

The company is built on 3 important values; honesty, integrity and a commitment to quality. This has made Pacific Hoists recognized nationally and internationally for its service and commitment to their customers.

The head office is based in Seven Hills, NSW with warehouses in Western Australia and New Zealand. With a dedicated national management team and state-based sales and service support teams; Pacific Hoists are able to offer the full package.

The company has a commanding market share with JDN, Simplex, Hitachi, Vital, CrosbyIP, WREN, Eagle Pro, Safe Pour, DrumGrab, Pacific and a variety of other products which are sold through a supportive network of distributors.

Product development is an important aspect of the Pacific Hoists business. Challenger and Simplex are the two latest additions our product range. Specialising in mechanical jacks and hydraulic high pressure, high force equipment, Simplex are a global provider of products, services and industry solutions to industries as diverse as transportation, manufacturing, construction, power generation and mining. The Simplex range also comes backed by a lifetime warranty and full service package.

The new brand Challenger are out to make a name for themselves within the national  lifting and materials handling industry, with a mission to support local cancer charities in Australia and New Zealand and provide a high quality product at a competitive price. The pink and purple product range of Challenger feature high quality and great value; backed by an industry best 2 year warranty. Utilising the latest manufacturing CNC technologies, unique gear designs, encapsulated bearings and heat treated hardened steel; all products are manufactured to comply with AS1418.2 standards. COMMITMENT, COMMUNITY, COMPETITIVE; this is what Challenger stands for!
The Pacific Hoists' commitment remains, as always, to supply a quality range of products, which are designed and manufactured to conform to Australian and International standards. A comprehensive range of information is readily available upon request.
The company will continue to grow and maintain the largest range and best quality products available to provide the right solutions for an ever-widening range of applications.