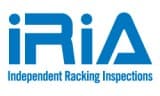 Independent Racking Inspections & Audits P/L
Independent Racking Inspections & Audits P/L
Materials Handling & Storage, Racking, Racking and Shelving, Shelving & Storage Systems
Independent Racking Inspections & Audits independently inspect all brands of steel storage racking in order to maintain a safe work environment.
Did you know that Australian and International standards require your Steel Storage Racking to be inspected at least every 12 months?
With state of the art technology in our racking management program and service locations in all mainland states and in 22 countries around the world, IRIA can assess and create a state of the art racking safety management system customized to your requirements.