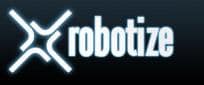 Robotize is dedicated to bringing robotic automation solutions to industry.
Our services are designed to help you at each stage of the buying cycle:
Research - Our online resource site has a huge number of robotic solutions
Budget Development - Our team can help you identify the right technology to meet your needs and develop a budget that will provide an attractive ROI
Tendering - We can put together details specifications and help you ask the right questions of prospective suppliers to ensure you get what you expect, with no unexpected surprises.
Execution - Our project managers are there for you each step of the process to make sure your project is delivered on time, on budget and as specified.