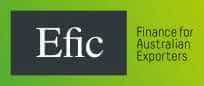 Export Finance and Insurance Corporation (EFIC) provides tailored finance solutions to help Australian businesses overcome the financial barriers they face when expanding their export activities.
As the Australian Government's export credit agency, we help Australian-based businesses to win and finance export, offshore investment and onshore export-related opportunities when their bank is unable to provide all the support they need.
We work directly with businesses and their banks to provide loans, guarantees, bonds and insurance products which can be tailored to meet the needs of both large and small enterprises.
EFIC is uniquely placed to do this: we have over 50 years of export finance and industry expertise, contacts at financial institutions around the globe, the strength of our AAA credit rating and an entrepreneurial business approach to make export and eligible export-related deals happen.
We practise responsible lending and uphold social and environmental best practice in the transactions we support.
If you're an Australian business and have a viable export or export-related opportunity, but financial obstacles are preventing you from moving forward, contact EFIC.