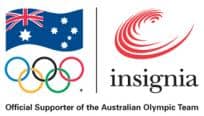 Insignia's Olympic Games Venture Reflects Labelling Partnership Philosophy

With the 2008 Beijing Olympic Games just days away, insignia has become the labelling industry's first official supporter of the Australian Olympic Team.

The leading prime label manufacturer and supplier of complete industrial labelling solutions recently announced its latest community service project, which will help Australia's largest ever Olympic Team to compete on the world stage.

Insignia is a leading Australian labelling manufacturer with manufacturing and warehousing facilities in Brisbane and Melbourne, and sales/technical service offices also in Sydney and Adelaide.

We are a proudly Australian-owned company as part of the Winson Group Pty Ltd incorporating insignia Pty Ltd and Signet Pty Ltd.

Insignia has over 40 years of experience in the Australian packaging market, and we manufacture a range of blank labels, barcode labels, laser labels and primary product labels. We have a state of the art press room, with six flexographic printing machines, operated by our dedicated and highly-qualified tradespeople.

Insignia distribute the Datamax range of thermal label printers and are recognised as one of Datamax's top business partners in Australia. insignia is also the Australian distributor for Diagraph and MECTEC thermal label applicators.

The team at insignia work as your long term labelling partner. Your label is much more than a sticky piece of paper. It is a statement to your most critical products and processes, and we take responsibility for its performance at every stage. That's the product of our partnership.