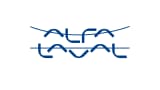 Alfa Laval
Alfa Laval
Industry Machinery & Equipment, Automation & Process Control, Coal Preparation, Machine Tools & Metalworking Equipment, Minerals Processing, Drilling, Fluid handling, Heat Processing Equipment & Services, Mining Equipment, Metalworking Machinery & Equipment, Waste Management Machinery, Air Conditioning, Fluid Control Systems, Cleaning Equipment & Services, Environmentally Friendly Products, Air & Pollution Control, Waste Management, Waste Water Treatment, Chillers & Refrigeration Equipment, Cleaning, Environmental Control & Refrigeration, Food Processing Machinery, Food Safety & Equipment, Mixing & Batching Equipment, Industrial Supplies, Energy Efficiency
Alfa Laval is a Swedish headquartered global equipment manufacturer, established in Australia since 1926. Our sales and service presence in Australia today covers Sydney, Melbourne, Brisbane and Perth. The Alfa Laval Service Centre in Huntingwood, NSW, is Australia's largest centrifuge repair centre.
Alfa Laval's history of technology innovation goes back to the invention of the first centrifugal separator. Today, the company is a global leader in the areas of separation, heat transfer and hygienic fluid handling with more than 3,500 patents. Our products and services are used in many essential manufacturing and process industries around the world, including Metalworking, Mining, Oil & Gas, Food, Dairy & Beverage, Chemicals, Pharmaceuticals, Construction and many more.
Alfa Laval is continually working to drive progress. Working together with our customers, we can create responsible, sustainable growth that benefits both people and the planet. Making the world better, every day.