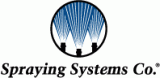 Spraying Systems Co.
Spraying Systems Co.
Industrial Hoses & Fittings
The Broadest Product Offering in the Industry Backed by Decades of Experience with Chemical Processors
If you're spraying liquid or a combination of liquid and air into gas, air onto solids or into containers or vessels, we can help. We work with specialty and fine chemical producers, cement plants, waste treatment plants, paint manufacturers and others to find ways to optimize performance in a wide range of spray operations. Customers enjoy the convenience of working with a single supplier and avoiding integration issues when working with multiple suppliers.