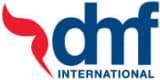 DMF International
DMF International is a leading Australian company, manufacturing and distributing climate control doors, flexible PVC doors, and high speed automatic industrial doors. We boast the exclusive agency for the high quality Efaflex High Speed Doors from Germany, as well as manufacturing our own doors in Australia.
With over 40 years experience, our family owned and operated business, can design and create a solution for your application.
Our products are available through our exclusive distributor networks, in every state of Australia, and export to NZ, SE Asia, India, and UAE.
These businesses are selected for their technical knowledge and commitment to customer service, and are trained in all the DMF products. The brands are enhanced with DMF's commitment to a premium level of service and customer support.