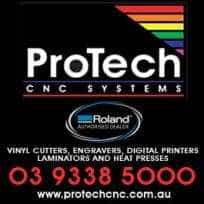 ProTech CNC Australia include the range of the most versatile production ready solutions in our industry. Our range includes Roland Vinyl Cutters, Roland Print and Cut Digital Printers, Roland Engravers, Roland Milling Machines, Gravograph Laser Engravers, ALC Cold and Heat Assist Large Format Laminators, HIX Heat Presses (Made in USA) and Scanvec Flexsign and Enroute Machining and Sign Making Software.
ProTech CNC also include a full range of Sign and Engraving Consumables.
METAMARK - ARLON - 3M - CALON - HEAT TRANSFER MATERIALS 
GRAVOPLY - TRAFFOLYTE - ENGRAVING MATERIALS
ROLAND VINYL CUTTERS
Roland Vinyl Cutters, now known as the industry standard include
ROLAND STIKA 8 - ROLAND STIKA 12 - ROLAND STIKA 15 
ROLAND CAMM1 GX24 (The industry workhorse) 
ROLAND CAMM1 PRO GX300 - ROLAND CAMM1 PRO GX400 -ROLAND CAMM1 PRO GX500 -ROLAND CAMM1 PRO GX640
ROLAND PRINT AND CUT DIGITAL PRINTERS
Roland Print and Cut Digital Printers offer the most versatile and reliable solution to your digital printing needs. With high quality print modes and contour cutting. These models include.
ROLAND VERSASTUDIO BN20 
ROLAND VERSACAMM SP300i - ROLAND VERSACAMM SP540i 
ROLAND VERSACAMM VS420 - ROLAND VERSACAMM VS540 - ROLAND VERSACAMM VS640 
VERSAART RE640
ROLAND ENGRAVERS AND MILLLING MACHINES, GRAVOGRAPH LASER ENGRAVERS
Roland Engravers and Milling Machines are the perfect solution for Trophy Makers, Identification Tags, Electrical Tags, Switch Panels and all your 3D rapid prototyping requirements. Our range includes
ROLAND EGX20 - ROLAND EGX30A - ROLAND EGX 350 - ROLAND EGX360 - ROLAND EGX400 - ROLAND EGX600
ROLAND JEWELA JWX10 - ROLAND JEWELA JWX30 
ROLAND MDX15 - ROLAND MDX20 - ROLAND MDX40A - ROLAND MDX540 - ROLAND MDX540S
ROLAND LPX1200 - ROLAND LPX600 - ROLAND LPX60 
ROLAND METAZA MPX90
Gravograph Laser Engravers are the fastest possible production in marking and engraving. Our range includes
GRAVOGRAPH LX100 - GRAVOGRAPH LS900 - GRAVOGRAPH LS900XP
ALC COLD AND HEAT ASSIST LAMINATORS
ALC Cold and Heat Assist Laminators protect your images from the elements and graffiti. Our range includes
ALC FINLAND COLD ROLL 1650mm - ALC GREENLAND COLD 1060mm - ALC PACIFIC COLD 760mm x 1080mm 
ALC DENMARK HEAT ASSIST 1650mm - ALC POLAND HEAT ASSIST 1080mm 
ALC MISTRAL COLD WITH HEAT ASSIST 1600mm - ALC MISTRAL COLD WITH HEAT ASSIST 2000mm 
 HIX HEAT PRESSES 
HIX Heat Presses recognizes the industry leader. These Made in the USA Heat Presses offer the most consistent dispersion of heat and are designed to provide years of trouble free service. Our range includes
HIX N880D AUTOMATIC 16" x 20" - HIX HL912 HOBBY LITE 9" x 12" - HIX HT400 CLAMSHELL 15" x 15" - HIX PRESTO 15 CLAMSHELL 15" x 15"
HIX S650 AUTO OPEN 16" x 20" - HIX SWING20P SWING AWAY 21" x 18" - HIX SING20 SWING AWAY TWIN UNIT 45" x 35" 
SCANVEC FLEXISIGN AND ENROUTE SOFTWARE 
Recognized as the industry standard in sign design and machining software. Our range includes all levels and upgrades of SCANVEC FLEXISIGN SIGN MAKING SOFTWARE - SCANVEC ENROUTE MACHINING SOFTWARE