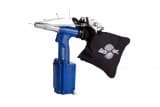 AutoFast Australia Pty Ltd
AutoFast Australia Pty Ltd
Industrial Consumables & Services
Location
33° 11' 33.8316" S, 151° 8' 46.464" E
OUR COMPANY
AutoFast Australia Pty Ltd is the exclusive distributor of AutoFast®t technologies in the Australian, Asian and Pacific regions. We supply superior rivet tools that manufacturing facilities could leverage to achieve increased productivity with their rivet fastening goals.
OUR PRODUCT
The AutoFast® Riveting System is the world's first truly portable semi-automatic rivet fastening tool. It has been designed for high volume installation of break-stem
 blind rivets. This revolutionary system can increase production rates up to four-fold and decrease installation costs. No other rivet system competes with the speed, flexibility and safety of the AutoFast® Riveting system.
SPEED – The AutoFast® Riveting System sets one rivet per second with a continuous rivet feeding capacity of up to 5000 rivets.
FLEXIBILITY – It is the only rivet fastening system designed to accommodate a variety of rivets from size, category and type. For maximum flexibility, the AutoFast® Riveting System can be adapted to work with robotics and customised nose pieces designed for industries such as transportation, aircraft, electronics and more.
SAFETY – The lightweight ergonomic design of
 the AutoFast® Riveting System and its no recoil will help minimise repetitive stress injuries commonly associated with 
rivet fastening. The single-handed operation allows the operator's free hand to be used for stability and support. The AutoFast® tool will not fire unless the nose piece is engaged. With a generous collection bag to collect used mandrels and feed strip, the risks of 'slip-related' accidents are avoided.
HOW IT WORKS
The AutoFast® Riveting System features a feed strip with rivets inserted at uniform spacing and is used to transport rivets during the riveting process. The rivets are fed automatically into the AutoFast® tool making manual rivet loading and mandrel disposal a thing of the past.
Rivets that are normally sold in bulk (loose) and installed manually one at a time can now be purchased in rivet feed strips to facilitate rapid semi-automatic installation.
The AutoFast® Riveting System's patented rivet feed system allows you to customize the type of blind rivet and the amount – sleeves (bags) can hold up to 500 rivets and boxes can hold up to 5,000.
OUR SERVICES
We provide an analysis of the customer's application requirements and tailor the AutoFast® Riveting System to satisfy those needs. We are happy to visit the customer's premises to provide a product demonstration and/or a product trial (real-time testing).
We offer reliable supply (replenishment) of riveting consumables. We can deal directly with the customer/end-user or will work with the customer's supplier / distributor to effectively manage the customer's use of our products.
We provide a comprehensive one-year warranty. Should any problems arise while under warranty, a replacement tool will be supplied to avoid down-time.
We offer training and nationwide technical support for the AutoFast® Riveting System.
ENQUIRIES
Contact AutoFast Australia Pty Ltd by phone or email. We look forward to hearing from you. Let us move you forward with the AutoFast® Riveting System.