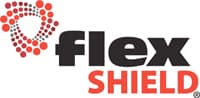 Flexshield is the leading manufacturer, supplier and installer of noise control and soundproofing products such as acoustic enclosures, attenuators, baffle silencers, modular acoustic panel, flexible noise control barriers and much more!
We have been servicing the Australian Industry since 2003 and continually reaps great reputation borne out of our high quality customer service, support ethics, innovative products and knowledge of all noise issues.
We are also able to back up our products with comprehensive National Association of Testing Authorities (NATA) accredited test results, that puts us ahead of the competition.
We also offer high level consultancy and design service; by visiting the target site and assessing your requirements while taking Noise Level readings, thorough measurements and details. This data is then used against product test results to achieve a well thought out solution to your noise problems.
Flexshield manufactures the world's strongest welding screen WELDFLEX and the quality of our DURAFLEX strip and swing doors are second to none.
Flexshield encompasses service in all of Australia — either directly or through our authorized service representatives.
All of Flexshield's products are available immediately, supplied in a kit-form fashion and are very easy to install. Alternatively, we are happy to provide a complete measure and quote right through our supply and install service.
We are committed in providing the industry with innovative Noise Control and Sound Proofing solutions. Carrying and sourcing a wide range of quality products while valuing our relationships with our customers.