Progressive Management Systems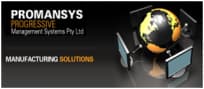 Progressive Management Systems has in excess of 30+ years of Industrial and Safety Control systems knowledge for assisting clients with consulting services to implement effective risk management strategies of Machine Safety. Focussing on the safety control systems reliant risk reduction strategies will result in a more cost effective and inherently safer machine or process as defined in AS4014 and ISO13849.
ProManSys provides independent Risk Management solutions. The services enable clients to continuously identify and eliminate or minimise their exposure to risk in the area of Process and Machine Safety, WHS obligations and compliance liability while increasing the clients productivity and profitability where possible. This expertise provides the opportunity for personnel to work with machinery and processes in a safer environment, is a most valuable investment for all businesses
Theknowledge and experience includes mechanical, electrical, electronic, pneumatic and hydraulic systems, assessed in all operating modes in the Risk Management Life-cycle of the Plant/ Machine/ Process.
The safety consultancy and training services are provided in the following industries:
• Metal, plastic and rubber
• Paper, pulp, printing and cardboard
• Power, water and mining
• General manufacturing,
• Automotive and robotics
• Food and beverage