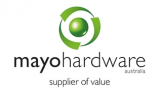 Mayo Hardware
Mayo Hardware is one of Australia's leading suppliers to the retail, trade, government and commercial markets with over 85 years experience and are a market leader in the outdoor lifestyle, portable security and safety lockout/tagout categories.
With a National presence and focus, Mayo Hardware has the resources and expertise to deliver industry and site specific lockout tagout systems with ease, expertise and efficiency.
Safe Site is a program run by Mayo Hardware to deliver industry and site effective lockout tagout solutions which result in efficient isolation processes and minimise downtime on site.
The program includes the following:
Site assessments to identify specific requirements of your business.
Master Lock safety padlocks and lockout tagout accessories.
Key management systems to ensure all safety padlock keys are unique.
Padlock identification solutions including laser engraving, traffolyte labels and photo identification.
Traffolyte and RFID plant labelling solutions.
Assessments to resolve difficult plant isolations.
Understanding the legal requirements of WHS harmonisation.
Procedural reviews aligned with industry leading practice.
Innovative opportunities to introduce efficiencies to save lives, money and time.
Ongoing training, on-site support and regular health checks.