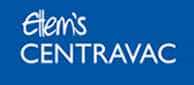 Ellem's Centravac, established in 1992, is a leading national distributor of high-quality and powerful Volta Centravac ducted vacuum systems.
An Australian owned and operated company; it offers a wide range of services that include:
• Leading provider of an array of Volta Centravac central
vacuum systems, parts and accessories
• Installation services and DIY
• Central vacuum cleaner service and repair
Why Choose Us?
• Prompt and reliable ducted vacuum systems installation,
service and repair anywhere in all area
• Leading distributor of high-quality Volta Centravac ducted
vacuum cleaners
• A wide range of high-performance products to choose
• 5 years warranty
Call Ellem's Centravac on 03-9555-9411 today to order your ducted vacuum system.