HS Sales- Handling Systems Australia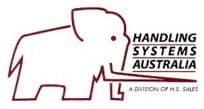 Handling Systems Australia specialise in the engineering, design and manufacture of attachments designed for forklift, loader and crane applications in Perth, West Australia, WA. They manufacture their own attachments on site. They also sell attachments from Bolzoni and East West Engineering. They also calibrate forklift weight gauges, repair crane and forklift attachments and sell spare parts for forklifts. Their engineering division, HSRD, are able to design custom made lifting equipment, including pneumatic and hydraulic requirements.
Their products and services include: goods cages, container ramps, hydraulic lifting tables, custom made trolleys, man cages, safety work platforms, tipping bins, forklift clamps, carpet probe attachments, forks, jibs, tynes, forklift slippers, weight scale calibrations, forklift spare parts,side shifts, spreader frames, container handling frames, fork positioners, drum clamps, extension slippers, pallet hook, concrete kibble. Over 30 years experience.