Eco Tek Building Systems Pty Ltd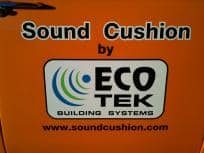 Residential home & multi storey acoustic floor membrane(Sound Cushion) application is directly laid over a concrete or timber floor(prior to tiling) with the purpose of providing a soundproofing barrier to comply with the Building Code of Australia. Soundcushion is 5mm thick and can be tiled over the very next day usually.
Sound Cushion being a cement/rubber  based system self levels thus filling in and minor floor imperfections and in some circumstances can be built up in layers to correct an out of level floor.