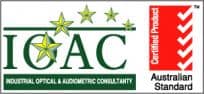 IOAC offers a wide range of products and services around Australia to take care of your occupational health and safety requirements.
IOAC sells licensed prescription safety eyewear, using market leading technology in the manufacture of its lenses providing the end user with the highest level of protection for their eyes that can be fitted to a comfortable and attractive frame from our extensive range. All of our prescription safety eyewear meets all relevant Australian standards
On-site testing provided by IOAC meets all relevant legislation and Australian Standards and our reports are easy to understand, relevant and to the point. IOAC also specialise in safety products, providing "proven premium brands at budget prices."