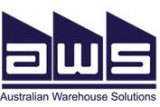 Australian Warehouse Solutions
Australian Warehouse Solutions
Export Solutions, Industrial Products, Shrink & Pallet Wrapping, Steel & Plastic Strapping, Strapping Machinery, Building & Maintenance
Since 1977, AWS has specialised in providing innovative and cost-effective packaging and building maintenance solutions.

We are proud to partner with many of the world's leading brand names in strapping and pallet wrapping, allowing us to offer our customers a one-stop-shop solution for consolidating their supply.


We have made several key improvements to our Customer Service team. Although our product range has increased in size, we are still achieving a 97% success rate for orders packed/dispatched on the same day that the purchase order was received.


Our Story

AWS is a privately held company, which was incorporated in 1977.

Sales offices/warehouses are located in Sydney, Melbourne and Brisbane.

Manufacturing

In the Australasian market, AWS is the leading manufacturer of desiccants and dunnage bags and currently exports to over 20 countries. OptiLedge is manufactured in Australia (under license) by AWS.

Importing

AWS imports a complete range of strapping and pallet wrapping systems and consumables. In most cases, we are the exclusive distributor.