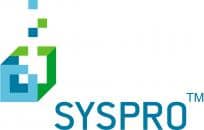 SYSPRO Software offers enterprise-class manufacturing, distribution and financial management systems designed especially for manufacturing and distribution companies. 
Developed over 30 years, SYSPRO is one of the world's most widely used enterprise resource planning (ERP) applications - used by 14,000+ licensed companies in 60 countries.  SYSPRO is distributed across Asia and available in multiple languages, supporting simplified Chinese and multiple currencies.
From small businesses to large, geographically dispersed companies with separate business units, SYSPRO is renowned for outstanding price/performance.  Priced according to business modules and number of users with an annual maintenance fee covering product upgrades, this dramatically reduces the total cost of ownership and ensures customers continuously receive product upgrades and support for the life of the software.
Built on the Microsoft® .NET platform, data can be remotely accessed over the web for activities ranging from checking sales volumes and customer accounts to monitoring warehouse inventory.
SYSPRO Office Integration (SOI) allows your staff to access data directly and securely from the SYSPRO database through Microsoft Office products, such as Word or Excel – regardless of whether SYSPRO is installed or not.
SYSPRO is a software development company and the largest independent, international vendor of enterprise business solutions.