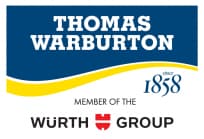 Thomas Warburton is an industry leader providing C-Parts, Engineering supplies and state-of-the-art inventory management systems and services to customers among the largest manufacturers in Australia.
With the strength of the Würth Group behind us, Thomas Warburton provides you a secure, strategic supply partner with access to global and local sourcing, quality and innovative inventory management platforms thanks to CPS® GLOBAL RFID Kanban and CPS®vend vending solutions for maximum productivity efficiencies.
With over 30,000 active articles in stock at any one time, customers have fast and convenient access to our full range at the precise time they are needed. Thomas Warburton can supply and deliver with certainty, from a single type of fastener, to engineering consumables for your production line, end product(s) and MRO.
We pride ourselves in offering customised supply solutions that provide considerable cost savings for our customers. Our strengths in procurement, logistics, prompt delivery and innovative inventory management systems provide our customers a service to fulfil continuous and less predictable consumable inventory demands during manufacturing production right through to your end products.