Apex Supply Chain Solutions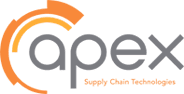 Apex Supply Chain Technologies is a global leader in automated dispensing systems for applications in retail, professional, service and industrial settings. CEO and founder Kent Savage is widely recognised as an international expert on automated dispensing and technology solutions and a visionary for innovative applications of the technology.
Apex has managed more than one billion automated vending transactions and serves thousands of global clients, including more than 300 Fortune 1000 companies.