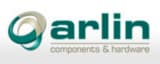 Arlin Components & Hardware
Arlin Components & Hardware
Electrical Equipment & Components
Arlin is a leading supplier of electrical, electromechanical and electronic components to Australian industry.
The company prides itself on high levels of customer service, substantial inventory, engineering knowledge and representing high quality component and hardware brands.
Arlin is unique in its ability to provide top-level customer application assistance, advice and support for all its product lines.