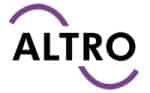 Altro Transformers is a specialist in engineering and manufacturing a range of transformers and enclosure systems. With over 30 years of experience, our range incorporates a combination of LV and MV products:
- Control Transformers/ LV Power Transformers
- 3 Phase Isolation & Auto Transformers
- Tri Dimensional Transformer (TDT)
- DC Rectifier Systems
- AC/DC Reactors
- DC Power Supplies
- Voltage Optimisation Transformers
- Enclosures (indoor, outdoor, switchgear and transformer cubicles)
- Transformer repairs and rewinds
An exciting addition to the Altro Transformers range is the Tri Dimensional Transformer. The unique continuous winding of the tri dimensional core provides improved benefits such as improved performance; reduced losses (no-load loss is reduced to approximately 40% and no-load current reduced by more than 70%), reduced sound level, reduced harmonics, improved EMC and substantial operating cost savings over the transformer lifecycle. Our range includes Oil Immersed Type, Cast Resin Type and Open Ventilated Dry Type. We offer traditional ground mount and pad mount types as well as kiosks and packaged substations.
Altro Transformers is synonymous with the provision of high quality products and finish. Our innate ability and drive for innovation paved a pathway in providing custom product solutions for all unique scenarios as well as standard requirements. With state of the art in-house design and development facilities and a great team, we employ the latest design and modelling systems in order to provide unparalleled products with short delivery times and optimal service. All products are manufactured to relevant Australian Standards.