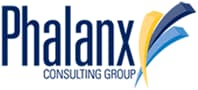 Phalanx Consulting Group is one of Victoria's fastest growing business consultancies. Dynamic, insightful and client focused, our purpose is to deliver tangible results for every client in order to maximise their business performance. 

We review all businesses objectively and thoroughly to provide accurate diagnosis and relevant recommendations. Phalanx's proven methods are hands on, supporting clients through to successful implementation. 

The fundamental core at Phalanx Consulting is captured in our stated mission:
"PHALANX CONSULTING EXISTS TO DEVELOP LONG TERM, COLLABORATIVE AND REWARDING RELATIONSHIPS WITH CLIENTS BY:
RECOGNISING THEIR POTENTIAL;
BEING ALIGNED TO THEIR VISION, GOALS AND OBJECTIVES; AND
IMPLEMENTING ROBUST MANAGEMENT STRATEGIES AND PROCESSES,
THAT DELIVER MEASURABLE RETURNS AND SUSTAINABLE OUTCOMES TO CLIENTS." Led by Managing Director Michael Dietrich since commencing operation in 1997, Phalanx brings together a united team of consultants with significant depth of expertise to support clients contending with challenges that may be encountered as their organisations evolve.