Amco - Australian Matting Company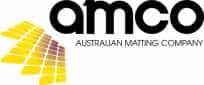 Amco Industries is a support company for mining and manufacturing companies who anti-slip and anti-fatigue prevention & safety seriously. Amco has been working alongside small to medium enterprises, all the way through to strong national and global companies since kick-starting off in 1997. Our support agents work with you through every step of the process to ensure the correct solution for your specific situation is achieved.
Amco's core values of innovation and customer satisfaction guarantee a positive experience for clients – we understand that no two situations are identical and in light of this offer entirely customisable and scalable solution to meet each and every of your onsite needs.
For quality, durability and guaranteed service, look no further. We stand behind our products (and often on top of them) making certain that you get the most bang for your buck. Our offerings include:
- 8:00 – 4:30 EST full time support agents
- Onsite and offsite consulting services
- Manufacture and engineering of fully customised goods
- Sourcing and supply of hard-to-get products
- Industry tips, updates & regular communication

Taking fatigue and slip safety seriously? Any ideas, questions or
advice? Share it with us on sales@amco.net.au or on 1800
888 598.