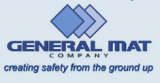 The General Mat Company
The General Mat Company
Dry Area Anti-Fatigue Matting, Electrically Conductive Matting, Entrance Matting, Mat Runners, Non-Conductive Matting, Specialty Mats, Wet/Dry Anti-Fatigue Matting
Australia's largest distributor of matting, i.e.:
* entrance matting
* ergonomic matting
* anti-fatigue matting
* static & high voltage, economy, modular, safety and non-slip matting

For kitchens, schools, universities, factories, nursing homes, hospitals, shopping centers, supermarkets, computer rooms and all other industrial and commercial applications. OH&S matting specialists. Free on site facility assessment. Mats, Mats, Mats!