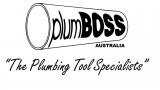 plumBOSS Australia
plumBOSS Australia
Construction Machinery & Equipment
plumBOSS Australia - "The Plumbing Tool Specialists"
plumBOSS Australia (formerly known as Sunstate Plumbing Tools) is an established family business that has been operating since 1987 and has developed vast knowledge, experience and resource for servicing the water and sewer industries throughout all states of Australia.
More customers with specialised needs are finding satisfaction with plumBOSS's service ensuring it's business growth continually. Through consistent reliability plumBOSS has worked its way into this sector, supplying many water authorities, councils, civil contractors and plumbers with an extensive range of well known brands of tools and equipment, as well as plumBOSS's exclusive line of superior quality, heavy duty tools. The fire service, gas, mining, and irrigation industries are also appreciating the expansion of plumBOSS into their markets.
plumBOSS Australia's aim is to keep up-to-date with new technology and tools in order for our customers to operate in a more efficient, ethical and safe manner.
To treat every customer with the respect and honesty they deserve, and where possible meet them on a face to face basis, is plumBOSS Australia's prime objective.
Overall, plumBOSS Australia's commitment is to provide the plumbing and water industries with both high quality products and superior service.
TUBE WORKING TOOLS AND PIPELINE EQUIPMENT