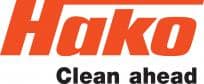 Hako is one of the leading international manufacturers of superior sweepers, scrubbers, footpath and street cleaning equipment, vacuums and the like for commercial and industrial floors and applications, municipal and grounds cleaning markets.
Some areas where our machines are used include townships, carparks, warehouses, manufacturing, airports, office building, healthcare (hospitals, age care, etc), hospitality (hotels, motels, resorts), retail supermarkets and shopping centres, entertainment precincts and major sporting events.
Hako has always been in the forefront as being the provider of choice of cleaning equipment as a result of its quality of product and depth of experience and knowledge in its people.