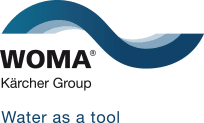 Welcome to WOMA Australia – Over 50 years of Cutting Edge Industrial High Pressure Water Jetting and Vacuum Cleaning Technology. WOMA is committed to providing you with the design, assembly, hire, sale and service support of ultra high and high pressure water pumps. Our broad range of nozzles, accessories, associated jetting systems and manually or remote controlled tools and equipment will give you the edge.
Understanding that safety, productivity and efficiency are your highest priorities - we offer you the following solutions;
WOMA High & ultra high water jetting equipment
WOMA Industrial vacuum equipment and spares
WOMA Manually, Manipulator or Remote controlled water tools
WOMA Small Industrial Water Jet Units
WOMA Accessories
Stoneage accessories
TST safety apparel
Selected waste management solutions
The WOMA 'one-stop-shop' represents the latest technological solutions. Further support is available from our design and production team, the spares and safety crew and from our training wing. We are committed to safe, productive and environmentally sound industrial solutions.